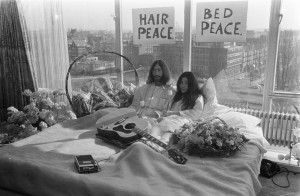 By Danny Abriano

Five days after their marriage in Gibraltar, John Lennon and Yoko Ono checked into the Amsterdam Hilton for the beginning of their first Bed-In for peace – the second Bed-In would take place in May in Montreal.

With the Vietnam war raging and Lennon and Ono aware that their non-violent public demonstration of the war would make worldwide news, Lennon and Ono stayed in bed with signs hanging over their head that read "Bed Peace" and "Hair Peace." In order to gain attention and spread their message of world peace, they invited the media into the room each day for 12 hours.

For the most part, though, the media didn't take the Bed-In seriously.

During the Montreal Bed-In two months later, Lennon spoke with Timothy Leary.

When asked if the message of peace was getting through, Lennon replied:
Yeah, think about it. But they're getting it, y'know, I mean they must be. Our voices must be going out solid about every quarter of an hour. And if it isn't singing, it's talking, and we're just repeating the same bit, y'know, and there's very little "Me eyes are brown and Paul's…y'know? I mean I do that for the ones that need it. Most of it's just, "let's get it together," and it must be going out now like a mantra. We're trying to set up a mantra, a peace mantra, and get it in their heads. It's gonna work.
Lennon had actually wanted to hold the second Bed-In in New York, not Montreal, but he wasn't allowed into the country due to his recent marijuana conviction.

The lasting images and videos from both Bed-Ins seem to have had far more impact than the actual Bed-Ins had at the time. However, that isn't an indictment on Lennon or Ono. Rather, it's a reflection of the media not taking their brilliant tactics seriously.

It's also likely that Lennon's political activism had a strong negative impact on the fact that the United States government began to harass him – and attempt to deport him – a few years later.

In 2012, Yoko Ono posted the Bed-In movie for all to see. It can be viewed below: