Woooohooo!!! We are so very excited to announce the winner of our Beatles LOVE Cirque du Soleil Las Vegas sweeps, right here right now! We had over 12,000 entries — over 12,000 answers to the question "Which Beatles songs describe you best?" (We'll post results soon!)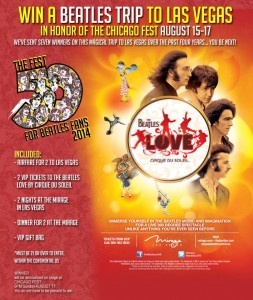 On Sunday night at the Fest, I (Michelle Joni) randomized four winners on WooBox. I wrote their names and songs on hearts. The young gentlemen and little lady you see here helped spread LOVE buttons to everyone in the audience during the door prizes. Then, they came up to the stage and held the hearts to their hearts, and one by one announced the name of the song on their heart. As each little child said the song, the audience cheered if they felt it described them too. The loudest cheers went to A Hard Day's Night (you've all been working like a dog, huh!?)
And the name on the heart was Viviana Adams! Congratulations… your hard day ends with two fabulous nights in Las Vegas at the Mirage Hotel and Casino! Your Vegas escape includes two tickets to see The Beatles LOVE Cirque du Soleil, dinner for two at the Mirage, VIP gift bags, and flights there and back.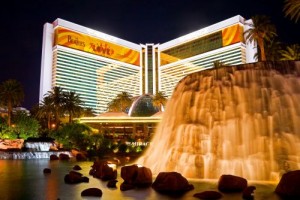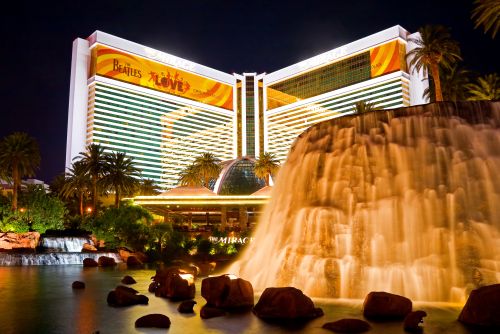 Viviana, from Porter, Texas, was completely shocked when she got the Facebook message that she won. After convincing her this was forrealz (Nothing is real….but this is!) she was sooooo excited!!! I asked her a few questions:

Michelle :: Firstly. Can you send some Beatles selfies and a note to the fans to post when we announce your win?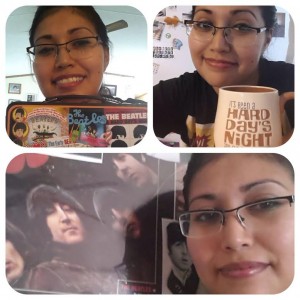 Viviana :: Thank you so much for the prize, I've never won anything like this! I am so thrilled I am still so excited. Thank you so much, I can't wait.

Michelle :: Yay! When did you first fall in love with The Beatles?

Viviana :: The first time I fell in love I was 15. I saw the Beatles Anthology and was so amazed by them and how hard they worked, and how they stayed true to themselves. They were not afraid to try something new. The music was amazing! I had heard it before when I was a little younger and my mother played it. Listening to their music it felt like I found…home. A place were I belong.

Michelle :: Wow! That is beautiful. So, have you ever been to Vegas or seen the LOVE show before?

Viviana :: No, but I have the LOVE show on DVD!

Michelle :: So cool! How many times have you watched it? Like, once – or a lot?

Viviana :: a lot LOL.

Yay!!! And we are still chatting. I'll add more here if she says anything else awesome and I suspect she will.

I love telling people they just won a trip to Vegas. It's one of my favorite parts of my job! The bearer of the best. news. ever. I'm so excited.

I should make a Beatles LOVE Cirque du Soleil Hall of Fame with all our groovy winners! Yes, I will do that. Viviana is our eighth winner, which makes kinda makes me wish her name was Henry. Peter Noone would have gotten a kick out of that one!

Thank you to the team at LOVE Cirque du Soleil and the Mirage for making this possible, and making so many people feel the perpetual love of The Beatles in such a magical, spellbinding way.

Next stop Los Angeles — our next winner gets picked Sunday at the LA Fest – October 12th. You don't have to be there to win but you won't regret it if you are!!!

Stay tuned for yet another chance to win the Beatles LOVE trip to Las Vegas!