In partnership with the Port Authority and Q104.3 FM, The Fest For Beatles Fans will be hopping on buses and heading out to JFK Airport this Friday to commemorate the 50th anniversary of the arrival of The Beatles in America.
On February 7th, 1964, The Beatles were alerted mid-flight that there was an enormous crowd waiting for them at the airport. Shortly after, they landed at JFK and were welcomed by thousands of screaming fans. The Beatles then held their first U.S. press conference at the airport before heading to the Plaza and Central Park. Two days later, they made their Earth-shattering appearance on the Ed Sullivan Show.
On February 7th, 2014, the 50th anniversary of the arrival of The Beatles at JFK will be recognized and commemorated at the TWA Flight Center (located in JFK's Central Terminal Area, adjacent to JetBlue's Terminal 5).
With hundreds of screaming fans who are coming to the airport courtesy of Q104.3 to honor the Fab Four, the event will kick off at 11:30 AM and will include the unveiling of a Beatles historical airport marker by the Port Authority and live Beatles music by The Fest's amazing house band Liverpool.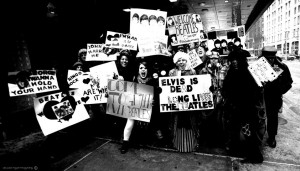 FEST FANS: Come celebrate with us!
The buses are all filled, but you can still meet up at the main entrance to the
Grand Hyatt at 109 E 42nd Street
. All who wish to come can take the train together to JFK Airport to the TWA Flight Center. It is probably faster than taking the Bus! See you there.
Just like our Fest Street Team did last Saturday, come with your
Beatles signs and style like it's 1964!