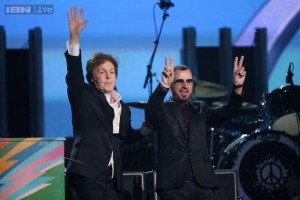 By Danny Abriano

To recognize the 50th anniversary of the arrival of The Beatles in America, the Grammys made last night's ceremony a Beatles-centric one, and Paul McCartney and Ringo Starr were the rightful centers of attention.

The two legends were on hand to receive a Lifetime Achievement Award, were seated next to one another in the front row, and both took the stage.

Aside from Paul and Ringo, Yoko Ono, Sean Lennon, and Olivia Harrison were also in attendance. Yoko and Olivia presented an award with Alicia Keys near the end of the ceremony.


It was Paul (the winner of five awards last night) and Ringo, though, who were the highlights of the evening.

First, Ringo took to the stage to sing his 1973 hit "Photograph." Starr and George Harrison co-wrote "Photograph" in 1971, and the pictures of the Fab Four flashing behind Ringo as he performed made for a poignant, moving moment.  The crowd rose in unison as Ringo performed, and it was a truly special scene.

A bit later on, Paul McCartney took to the stage to play "Queenie Eye" from his new album. With Paul playing a piano from the Magical Mystery Tour era, Ringo joined in on drums, creating the surreal and amazing site of the two living Beatles performing together.

The last time the two performed together was in 2010, when Paul surprised Ringo on the occasion of his 70th birthday at Radio City Hall and the two performed "Birthday" together.

Incredibly, last night's scene may simply serve as an appetizer for Beatles fans who are hungry for more. Tonight, CBS is recording a special titled "The Night That Changed America," a two hour salute to The Beatles that will air on February 9th at 8PM.

A few days ago, Ringo confirmed that he and Paul would be performing together for the special being filmed tonight. Not to take anything away from the incredible performances we were fortunate to witness last night, but one would imagine Paul and Ringo will be performing Beatles hits together for "The Night That Changed America."

It was amazing to see Paul and Ringo together last night, and the February 9th special airing on CBS should provide us with more memories that will be long lasting.

Check out a clip of Paul and Ringo performing together last night: