Last month, over 8,000 Beatles fans from 45 states and 5 continents gathered at the Grand Hyatt on 42nd street for the biggest and best New York area Fest in our 40 year history!

It began Friday morning on February 7th, when the Fest sent two busloads of fans from the Hyatt in Manhattan to JFK Airport in Queens to commemorate the exact moment in 1964 when The Beatles stepped off PanAm flight 101.


50 years to the day of the arrival of The Beatles in America, months of perseverance paid off with help from Q104.3 and the Port Authority of New York/New Jersey. With fans and media gathered at the TWA flight center at JFK, the Port Authority revealed a permanent Beatles plaque that marked the historic occasion.

As fans screamed and flashed homemade signs, our incredible house band Liverpool shook the airport with two live sets of Beatles hits. Ken Dashow of Q104.3 was on hand to deliver some remarks, and introduced Billy J. Kramer, Mark Rivera, The Lord Mayor of Liverpool, and John Lennon's sister Julia Baird to the crowd.


The event was a huge hit, and was covered on hundreds of newscasts later in the day.

Back in Manhattan, the Fest began at 5PM in 20 ballrooms and meeting rooms and it wasn't long before everyone realized it was going to be a very special weekend full of lots of surprises. Our special musical guests – Donovan, Peter Asher, Billy J. Kramer, Chad & Jeremy, Mark Rivera, and Mark Hudson, were just the beginning.


Other musical guests – many previously unannounced – included Denny Laine (Wings), Neil Innes (The Rutles/Monty Python), Gene Cornish (The Rascals), and Terry Sylvester (The Hollies). Also rocking the Fest were The Smithereens, The Nutopians, and Birds of Paradox (featuring Steve Holley and John Lennon's former band members Gary Van Scyoc & Adam Ippolito). Of course, Liverpool headlined the nightly Beatles concerts. We thank Steve Holley, who did a tremendous job pinch hitting for Chris Camilleri.

A wonderful surprise, Pattie Boyd joined us for most of Saturday for a great talk and a signing session. Along with Pattie, our non-musical guests contributed greatly to the festive spirit of the weekend. "Good Ol" Freda Kelly, Mark Lewisohn, Larry Kane, and 20 other guest authors and panelists helped fill the weekend with lots of great moments. Let us not forget Vince Calandra, Irene Katz & Alice Kestin, who told stories of what it was like to be at the Ed Sullivan Theatre or the Plaza Hotel during the weekend 50 years ago when The Beatles conquered America.


Also spicing up the weekend were two live broadcasts. Saturday, Cousin Brucie, the legendary DJ who now hosts 60s on 6 on SiriusXM, took over the main stage for three hours to celebrate the anniversary of the arrival of The Beatles. Besides all of our musical guests joining Cousin Brucie, Ronnie Spector appeared and sang a great version of Be My Baby. Sunday Morning, Ken Dashow's Breakfast With The Beatles aired live from The Cavern, where Billy J. Kramer & his band, Dana Fuchs, and Garrett Gardner (NBC's The Voice) all performed live.


The Cavern was a highlight of the New York Fest, a brand new second ballroom of live music that featured more than a dozen up and coming bands, DJs spinning Beatles songs, live painting, and more. Among the highlights: Garrett Gardner brought the house down, Michelle Joni premiered her tribute to Yoko Ono's Bad Dancer and sang with Michelle My Pelle, acclaimed singer-songwriter Laura Stevenson graced the stage, and Mark Lewisohn joined Bambi Kino for some very early Beatles jams. Other artists included Dani Mari, The Ferocious Few, People At Parties, DJ Natasha Blank, Josh Max, Peculiar Gentlemen, Cheap Sneakers, Odetta Hartman, Rony's Insomnia, and Nick Demeris. The Cavern went to 2 AM on Friday & Saturday nights for those who still had energy left, and ended with a Fest after-party Sunday featuring Reserved For Rondee, who blew the crowd away with their unique style.

The new events at the Fest proved to be very popular. The Ashram, a mind-body-Beatles experience, featured yoga, guest lecturer (Dear) Prudence Farrow, sound healing, talks on modern spirituality inspired by George Harrison, Deco's poetry jam, and more. The Modern Drummer Drum Symposium was packed, and featured Liberty DeVitto (Billy Joel), Danny Seraphine (Chicago), Carmine Appice (Vanilla Fudge), Aaron Comess (Spin Doctors), Steve Holley (Wings), Dennis Diken (Smithereens), and Shawn Pelton (SNL Sessions), world class drummers who paid tribute to Ringo Starr – the greatest drummer of them all. Also new this year were sold out New York City Beatles Walking Tours on Saturday & Sunday, and "We Can Write It Out" with Mark Hudson, where songs were created during each session.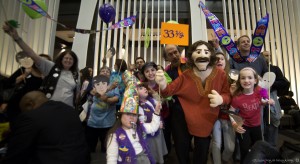 Other highlights from the weekend were Photographers Bob Gruen, Allan Tannenbaum, and Rob Shanahan, and Artist Eric Cash showing their amazing exhibits, the incredible 40th anniversary Fest cake that was presented by Baked by Melissa on Saturday night, puppet shows and a parade led by Bob Abdou, a children's concert by mr. RAY, two couples who got married the day of the Fest before coming to the Fest together for a "Beatlemoon," Beatles trivia, "Yesterday and Today" winning the Battle of the Beatles Bands, Jeff Goldberg winning a trip to Las Vegas to see Beatles LOVE, and of course all of the late night jams throughout the hotel!


We are currently gathering all of the pictures from The Fest. Many more pictures of all the guests and events will be shared in emails, on Facebook, and via www.thefest.com in the coming days and weeks!

We'd like to give a special thank you to Q104.3 for being a wonderful presenting sponsor. The Touch Tunes Karaoke and the Nation-wide sing-along led by Ken Dashow in the Q104 Lounge were big hits. We'd also like to thank The Grand Hyatt, who did a terrific job hosting the Fest. Most of all, thank you to all the guests and fans who came to celebrate the 50th Anniversary of The Beatles' arrival in America and the 40th anniversary of the Fest for Beatles Fans with us. You all helped to make it the special event that it was. We look forward to Chicago and Los Angeles later this year and many more Fests to come!