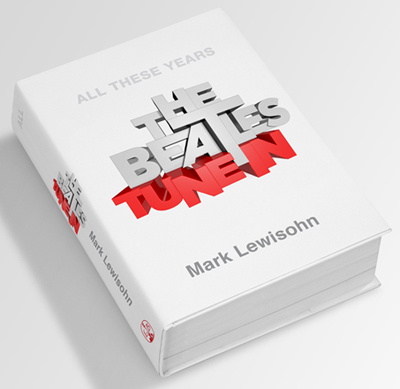 MAJOR BOOK ANNOUNCEMENT: The most important Beatles Book of all time is being published on October 29th. THE BOOK IMAGE SHOWN MAY NOT BE THE FINAL BOOK COVER USED. WE WILL PUT UP THE FINAL COVER AS SOON AS WE RECEIVE THE ARTWORK.
6230 -THE BEATLES TUNE IN: ALL THESE YEARS, VOLUME ONE BRAND NEW It has been 10 years in the making, and MARK LEWISOHN's epic 1248 page Hard Cover Book is going to be well worth the wait. List Price $40.00 SPECIAL PRE-ORDER PRICE FOR THIS WEEKEND!
ONLY $32.50
RESERVE YOUR COPIES NOW TO GUARANTEE THIS SUPER PRICE Through Monday, May 20, 2013
Here is the full release directly from the Book Publisher:
The world's leading authority on the Beatles – and author of the bestselling
Beatles Recording Sessions – has completed the riveting first volume in a
groundbreaking trilogy about the iconic band that changed the face of pop music.
TUNE IN uncovers the lives of John, Paul, George and Ringo as never before. Their enduring fame and legendary exploits have led to countless biographies of the Beatles, but now we have the ultimate portrait. Tune In is the first book in a genre-defining trilogy, telling the story of the Beatles from before their beginning up to the final night of 1962, with success within their grasp and on the cusp of a whole new kind of celebrity.
This is the lesser-known Beatles story – the pre-Fab years of Liverpool and Hamburg – and in many respects the most absorbing, extraordinary and incredible period of all. Here is the warts and all story of their family backgrounds, childhoods, and their infatuation with American music. As Tune In chronicles in amazing nuance, everything comes together in these years and in this one book: the Beatles' talent, charisma, looks, personalities, honesty, humor, attitude – and the Lennon-McCartney partnership. Forget what you've read or know about the Beatles, tune in, and start anew.
THE GREATEST BEATLES BOOK EVER WRITTEN. A decade in the making, Tune In is a staggering achievement – the most detailed recreation of how the most famous rock 'n roll band in history came to be.
A MAJOR PUBLISHING EVENT. Musicians, collectors, scholars, historians, critics and legions of Beatles fans are awaiting this publication with a near desperate sense of interest and enthusiasm.
NEWSMAKING. Tune In is a completely fresh take on every aspect of the Beatles' origins with scores of new interviews and tidbits certain to draw headlines. Written from an immense wealth of primary and insider sources, many never heard or seen before, including letters, contracts, photos, recordings and hundreds of new interviews and deep dive into libraries and archives from around the world, Tune In is told with panache, wit and the alluring, authoritative style of a master storyteller.
AUTHOR PLATFORM. Mark is the world's only professional Beatles historian – the recognized expert on this subject.