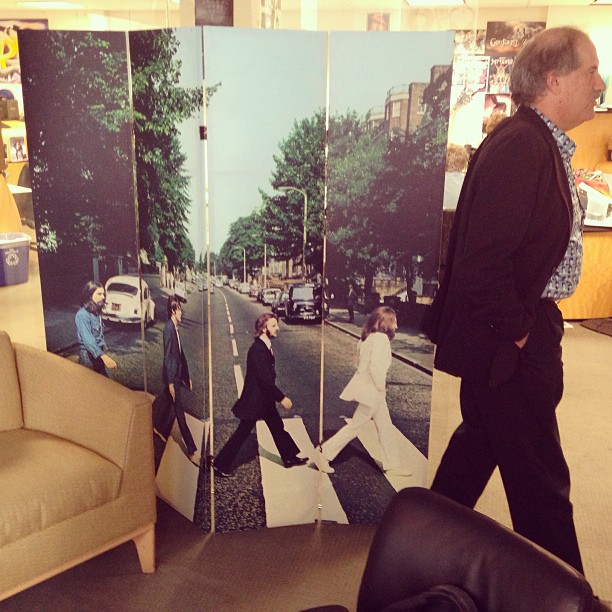 Woke up, Fell out of bed and decided to write this stream of consciousness as I celebrate this wonderful occasion of what it is like to be 70. I don't know how long this will be, and I may ramble, but so be it. It occurred to me that it turns out that music has been at the center of my life from the beginning. My father, Danny, was a musician (sax player) and band leader. From my earliest days I loved music. My first records were 78 RPM at the birth of rock and roll. Listening to the top 40 stations we got a sprinkling of all the music that was popular at the time. Having the opportunity to see the popular artists of the time live on stage at Kutsher's Country Club in the Catskills from 1957 where Dad would be the bandleader for the next 41 years. His only music idol was Louis Armstrong. I can remember when he played there in the summer of 1958.  There was Dad leading the band for this icon who later was named the greatest American musician of the 20thCentury. Meeting him backstage after the show was a moment that still hangs on my wall at home. My father and Louis shaking hands. His expression is one of pure joy. I must have felt something at that moment because it would happen to me in another 6 years.
We meet many people along the way, some become friends for awhile, some for life. Mike Quittman and I met at Kutsher's that first summer and became friends, very competitive in all games – Ping Pong, Nok Hockey, then golf, the other love of my life. Mike and I used to go to all the shows together, seeing this wide variety of music and other entertainment. We sat at the side of the stage and I was always very proud to see Dad leading the band. Mike also loves music – 50s and 60s rock and roll and still does (though not to the same level). This 60 + year friendship is my oldest and we still get together and still go to concerts. I love you Mike.
January 6,1964 – That moment when I am grabbed by music bigtime and it never let go. I first heard I Want To Hold Your Hand. I just wrote about this 13 days ago, so will skip the details now, but I didn't know at that moment, how one song and one band could truly alter the lives of an entire generation and beyond.
September, 1965 Off to Adelphi University. One of the first guys I met was Bob Stirber. He also played guitar, as I (and millions of others) did because of The Beatles. We weren't roommates, but we certainly bonded quickly and became roommates and best friends by our second year. As our eyes and souls were being opened to a new world, we talked endlessly about everything. In 1969, we graduated and went to Europe for 2 months. First stop was London and 3 Savile Row, Friday, June 13. Now, Bob loved the Beatles but wasn't in the same hard core fan category I was in. It was our first stop because I wanted to meet the Beatles and this was their office.  John walked out of the office to look at a Fireplace that was in a truck that had just driven up. I said hello, shook his hand, got his autograph, took some photos and had a nice short little conversation with him. Another bigtime life changing moment. I walked around London that evening looking at my hand and saying " I shook one of god's hands". Clearly Bob thought I was overboard. I also said to Bob, I want to work for The Beatles! In Amsterdam, Bob buys a guitar and we spend most evenings playing Beatles music (and others) in parks in every city we visited. Their music was truly universal, wherever we went, even if they didn't speak our language, they knew the songs. My only professional gig as a musician was with Bob at a school on Long Island. We were paid $20.00 each. Bob and I remained close but time and distance got in the way. He was an early advocate of eating organic foods and how to stay healthy. Bob didn't make it to 70. He died of cancer almost 3 years ago. I love you and miss you, Bob.
August 15-17, 1969 – Woodstock. After returning from Europe a week earlier, in time to be the best man at my brother Howard's wedding. I love my brother, Ilene and their entire family, but Howard didn't get Dad's genes when it comes to music. I did!! (We both got his love of golf, however.) So, I go up to Kutsher's for the rest of the summer, only to find out that this little music festival was only 13 miles away! I went all three days and was exposed to so many great groups who I only knew their hits from. This was another one of those life changing moments. I decided that I have to work in the music industry. Yes, in 1969, my record collection was just beginning to change from singles to albums. Of course I had all the Beatles albums and some Stones too, but that suddenly changed.
October 1, 1969 – Out of College, Money Spent, See No Future, Pay No Rent. I head over to Sam Goody, the large record store chain in the east, to try to find a job. The Beatles got in the way. Abbey Road was released that very day and of course I had to immediately buy it and go home to listen to it, forgoing the job application idea. I am again overwhelmed with their music. My first thought was How did Paul McCartney know my exact situation in life at that exact moment? I don't know, but he did. Next day I got a job at Sam Goody and found out I loved retail, especially selling music. It was certainly a lifestyle by then and I felt it.
Late, 1969 -Roger Berkley is hired as a part time record salesperson. We very quickly become friends. Roger was one of the first people I told of my idea in 1974 about Beatlefest. He was all in on it from day one. He ended up being the auctioneer at the first Fest and the announcer on the documentary we made, called Welcome to Pepperland. Roger and I have remained best of friends ever since. Roger used to live on the upper west side of NYC and would bump into John on numerous occasions. One such time was in 1979 about a week before a Fest, He asked John if he had a message for the fans. He said, Tell them, The Music was the Thing.  Roger is also a golf nut and his family has been part of the shows forever. Today, I am concerned about Roger. He has had a couple of surgeries this week and is in recovery. We all hope for a full recovery. We want the Roger we know and back. We have to be optimistic. I love you Roger.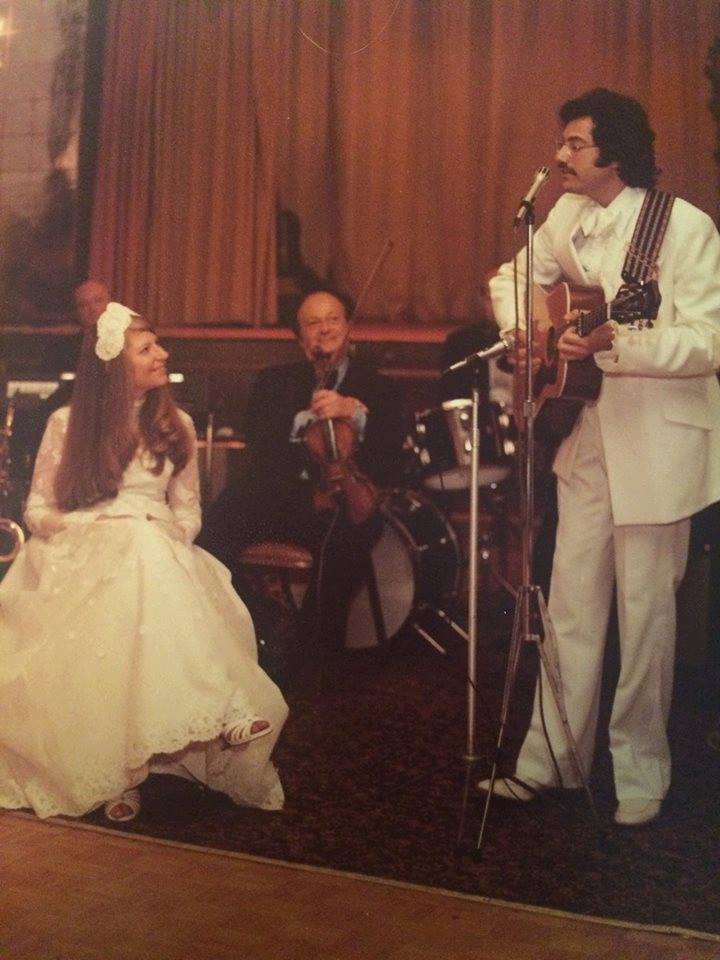 August 17, 1975 – My first date with Carol. I brought my guitar, went out for Chinese food, came back and saw her record collection – Beatles, Concert for Bangladesh, Joni Mitchell, Aztec Two Step, and many others that adorned my own collection. Again it was a musical connection. Our second date was the second Beatlefest. We married in June, 1976. I walked down the aisle to my favorite song, Hey Jude. I played Here Comes The Sun to her during the wedding while in my White tuxedo. We are married 42 years and Carol is the love of my life.  Michelle is now 33 and is recording an album as I am writing this. Jessica turns 30 in a few months and is wise beyond their years. I love my family so much.
It just occurred to me yesterday, the words that John sent to us in 1979 Tell them, The Music was the Thing was not just about the Beatles, but in life itself. My longest friendships, my Father, my Mother, my Wife, had music at the core. A love of music is of monumental importance in my life. I remember Dad telling me how lucky he was to be able to play music for a living. He did what he loved the most (other than golf). Dad and John also shared their birthday – October 9th.  So there it is. My life as seen through these 70 year young eyes – my father's words and John's words (and of course, The Beatles) led me to a career which I absolutely love. And it is all centered around music! I am a very lucky man.
It has been a great thrill and honor to have personally met John, Paul, George and Ringo and almost everyone involved in the Beatles story. Presenting their friends and family at the conventions for the past 44 years, have given us all insight into just how their 'team' was so important to them. The friends we have made at the Fests over the years are much more than friends. Our staff are very much part of our extended family. I love you all very much. It wouldn't be the same without you.
All you need is love,
Mark Lapidos
A baby boomer and very proud of it
Written January 19, 2018 5:30AM