Charles Roberts
Took first photo of John Lennon and The Quarrymen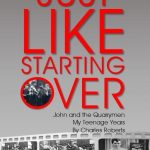 As Charles recalls:
When the Quarrymen agreed to play at my street party in 1957, nobody in Toxteth had heard of them. Little did any of us know that they would eventually evolve into the greatest band in the world –- The Beatles. The lads came from the more affluent Woolton and the surrounding area, and they were all aware of Toxteths 'rough' reputation, but to their credit, they all turned up.
What happened then is well documented, and this first-ever photo of John and his Quarrymen captured a moment in time that can never be repeated. I have a limited number of photos hand signed by the three active Quarrymen, Colin Hanton, Len Garry and Rod Davis, and I will also sign them at The Fest. Stock is limited and once they are gone I may never be able to secure the signatures of the Quarrymen again.
Charles will also be premiering his book, Just Like Starting Over, at the FEST. It is about his time as a friend of John and the Quarrymen in their teens. Some parties, some gigs, times at the Cavern, St. Peters, Strawberry Field, and pubs they frequented at the time even though they were under age. Charles tried to include stories that have not been told before, but also to correct a few. Most of it is first hand from his memory and did not need researching. There are photos, some new ones, and he is thrilled to launch it at the FEST.
Charles will be sharing his memories of that very earliest musical moment of a timeline that led to….well, we all know the rest!