Leon Wildes
Immigration Attorney, represented John Lennon
Leon Wildes is the legendary Immigration Attorney who almost singlehandedly won the federal case against John Lennon. It was the most influential and bitterly contested deportation case in U.S. history. The American Bar Association has named his book, John Lennon vs. The USA, the most important legal book of the year. We are honored to welcome Leon to his first Chicago FEST and will be joining us to talk about the case and sign copies of his book. Please note his approximate speaking and signing times for Leon. Friday 5:30PM with signing to follow. Saturday 9:00PM with signing to follow, Sunday around 1:30PM with signing. Make sure you plan your weekend to see him at least one time. His story is truly remarkable and he rarely makes public appearances.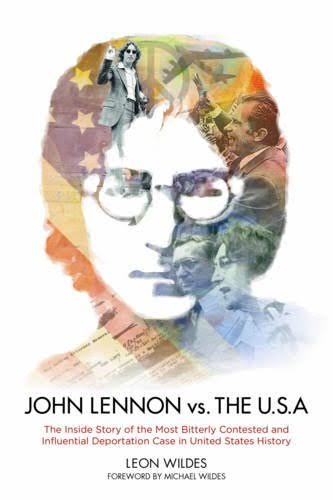 The Statue of Liberty said "come"
JOHN LENNON vs. THE USA: The Inside Story of the Most Bitterly Contested and Influential Deportation Case in United States History
–          Leon Wildes, with foreword by Michael Wildes
Book review by Tom Frangione (Courtesy Beatlefan Magazine)
"With special thanks to all the people, known and unknown, who helped us stay in America, without whom this album would not have been made"
–          Sleeve notes, Double Fantasy album, 1980
My only disappointment in reading Leon Wildes' long awaited book is that I knew how the story would end, for his telling of this most important chapter in the lives of John Lennon and Yoko Ono presents so many twists and turns (some strategic and some not) that the plot unravels like a courtroom drama on steroids.
The book chronicles John & Yoko's immigration struggles which consumed half his post-Beatles years. While this phase of John's life and career have been, heretofore, examined in books such as Jon Wiener's superb Come Together: John Lennon in His Time, never before have we had such an insider's view, literally from the pilot's seat. Tellingly, the book's title – citing Lennon as the plaintiff and the United States as the defendant – stands in stark contrast to the 2006 movie and its accompanying soundtrack album, where those designations were reversed. As Wildes spells out in stunning detail, it was when the roles were reversed that the lynchpins of the outcome would come into being.
Fans that may fear that the book will be too deep a journey into dryness and lawyering needn't worry. Where necessary or appropriate, Wildes strikes a perfect balance of legalese and layman language, expounding on any technical terms masterfully, so that the non-attorneys can follow along with ease.
Setting the tone early on, it's abundantly clear that Wildes' belief was, and is, that the Lennon case was one of selective prosecution, taken to absurd proportions. He makes that case rather convincingly early on, engaging the reader to jump squarely into his client's corner. That lack of objectivity contrasts nicely with his contention that he was completely unfamiliar with John and Yoko, and their art, prior to having met them.
Actual documents and correspondence relating to the case are used sparingly throughout the main text, but are bountifully presented in the nearly 50-page appendix. Some are fascinating, including Senator Strom Thurmond's memo to then Attorney General John Mitchell that got the ball rolling as it were, wherein he advised that "many headaches might be avoided if appropriate action be taken in time", commenting on Lennon's association with the radical left and the potential for disruption at the Republican National Convention, compounded by the effect Lennon's appeal would have on the newly minted 18-year old vote. The government's zeal to nip this thing in the bud – whatever the cost – is evident in their lack of fact checking, citing Lennon's birth date as September 10, 1940.
It would not be the last time that sloppy paperwork went in the Lennon file, as Wildes details. One such document in the FBI file contained a photo of Apple Records recording artist David Peel, misidentifying him as Lennon. Another such document, which I vividly recall seeing at the now-defunct New York Rock and Roll Hall Of Fame Annex some years ago, is a 1972 letter from the Immigration and Naturalization Service "revoking the privilege of voluntary departure", basically telling John and Yoko to get out. Now. That the couple was living mere blocks from where I stood reading that letter made things all the more gut-wrenching.
Other insights revealed by Wildes include the discovery that, at the outset of the proceedings, Yoko may have already been, in fact, a lawful permanent resident, having obtained a green card a decade earlier. Such findings were more than pawns in the game, according to Wildes; they were further proof of vindictive spirit, with which the Nixon administration (and yes, Wildes skillfully connects those dots right to the White House) pursued John & Yoko. Indeed, the US Attorney assigned to the case, whom Wildes cites general admiration for, was Vincent Schiano, who had only two cases at the time – Lennon, and that of a Nazi war criminal. The United States went so far as to recommend trying John and Yoko's cases separately, which may have ultimately meant Yoko having to choose between her husband and her daughter (Kyoko) whom she and John were searching for and attempting to reunite with. It was clear that not even humanitarian grounds, the very core of immigration policy, were going to be afforded if the White House had its way.
One such concession the government laughingly recommended was for John to seek to have his 1968 drug bust (the basis for the deportation case, according to the company line) in England pardoned or expunged. Of course, that would have necessitated his return to the UK, at which point the government would have effectively won its case by default by simply not allowing him to re-enter America. An interesting counter-tactic was to challenge whether the cannabis resin (hash) John was busted for would qualify as a narcotic or even marijuana, as provided for in said grounds for deportation. Wildes, not familiar with the substance, asked John whether hash was marijuana, to which John eloquently replied "oh no, it's much better".  In that regard, Wildes tells of the lengths to which he solicited the expert testimony of Dr. Lester Grinspoon of Harvard Medical School, whose book "Marihuana Reconsidered" was a widely recognized study of the medical, social and legal aspects of the drug, which he deemed vital. While Grinspoon had ceased the practice of providing courtroom testimony, he made an exception in exchange for some autographed Lennon memorabilia for his leukemia stricken 12-year old son.  It's but one of many examples of how this case was destined to differ from typical courtroom fare.
In preparation for mounting their case, Wildes spells out the lengths he had to coach and interact with his clients, whose lifestyles were worlds apart from his. That personalization put a face on how and why John and Yoko knew that Wildes was their guy, and formed a bond of friendship for the Lennon and Wildes families, which continues to this day.
The legacy of Wildes' legal maneuvering in the Lennon case lives on, having impacted immigration policy reform right up to the current Obama administration. His long overdue book is a highly recommended celebration, in which all Lennon fans should revel.